Chris Lattig
AFF Instructor & Tandem Instructor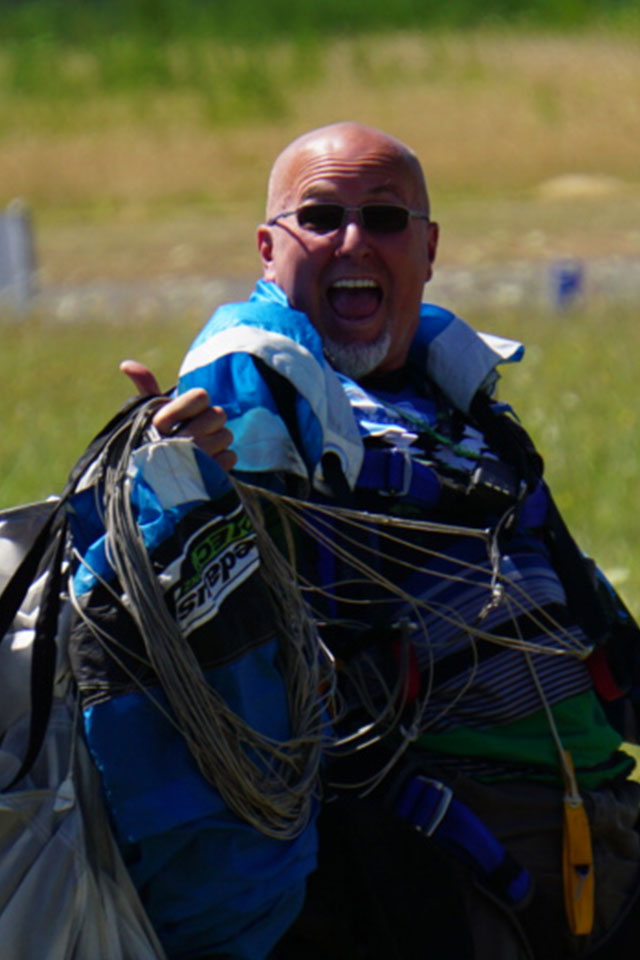 What is are your PRIMARY roles at the DZ?
AFF Instructor
Tandem Instructor
Other Role
Bad Example
What is your USPA License Number?
D28120
Please list your USPA Ratings:
AFF Instructor, Tandem Instructor, Coach
How many jumps do you have?
I dunno – maybe getting close to forty hundred? I think that's about 123,728.3 in metric
How many years in the sport?
Too many to admit to.
When you were a kid, were there any early activities that might indicate you'd one day become a skydiver?
When I was in Kindergarten, I wore a witch costume for Halloween (because my father forgot to get me a gift when he went out of town and out of desperation he gave me one of the gifts he had purchased for my sister – that he considered the least inappropriate gift for a little boy) Anyway, I peed my pants in Kindergarten while I was wearing that witch costume because the mean teacher wouldn't let me use the bathroom. I don't really know what this has to do with me becoming a skydiver, but I think you'll have to admit that it's a pretty awesome story.
What was the circumstance that led you to the DZ for the first time to make your very first skydive?
I went to a private college-prep high school in the Portland area. Every year they would have a "mini-week" in which the school offered short alternative courses as a kind of break from the usual curriculum – short story writing, pottery, etc. Somehow, my friend Nick W (who was a Senior) managed to convince the school administration to allow an "aviation" course for mini-week. Nick failed to mention that his idea for the class included jumping out of an airplane. Nick got a couple of friends together and asked me if I wanted to go. I had just turned 17 so I thought I couldn't – but Nick persisted and we ended up 'fudging' my birth date. I made my first skydive on April 23, 1977 under a round canopy – out of the same airplane that was part of my most memorable skydive. My mother found out about my new hobby when she found some pictures of me skydiving hidden in my sock drawer… Nick W is likely either in prison, or a US Senator by now.
What made you want to continue skydiving after your first jump?
Lack of any shred of common sense, of course!
If you could jump with anyone in the world, who would you like to jump with and why?
My next student. AFF or Tandem – because their excitement and wonder about this insane sport is what fuels my enthusiasm and keeps me smiling. Oh, and Brad Pitt – because he is such a beautiful man – admit it – you think so too…
What advice would you give to someone thinking about jumping for the first time?
JUST SAY NO! You fall in love with skydiving at your own risk. If you do – Your current romantic relationship will be ruined, your friends will all think you are crazy and you will lose some of them, you'll lose the rest of your friends by boring them with your "awesome" skydiving stories, you'll NEVER have any money (it'll all go towards skydiving and beer), you will spend ALL of your free time at the drop zone, you'll whine every time it rains, and you'll probably end up with the NEED to feel the breeze between your knees in order to function normally.